So I know I have not posted in awhile so I figured I would update with everything I have being doing. I have not done too many crafts lately since my daughter and I have been busy with many activities. The things I have done I am really proud of though.

On September 18 my best friend in the whole world married my husbands best friend. I introduced them almost 4 years ago and we were so excited when they got married. I am so glad that I was a part of her special day, especially since I was able to help her with all the detailed crafts for her wedding and bachelorette party.

The first thing I did was the bachelorette party. She decided she wanted a cowgirl theme and we all went to this fun cowboy bar in the area. I decided to make name badges of all the girls roles in the wedding: Bride, Maid of Honor, Bridesmaid, etc. I found these adorable wooden sheriff badges and painted them with pink paint I already had. Then I added black sequins around the edge and wrote the appropriate role in the middle. They turned out so cute and the girls loved them and they cost under $2 each!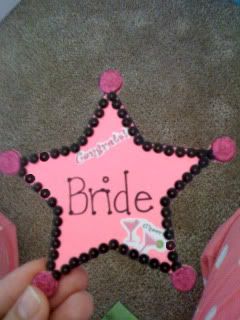 I really wanted to do something special for the bride at her bachelorette party. I decided to take a veil and sew it on the back of a cowgirl hat for her to wear to the party. She loved it!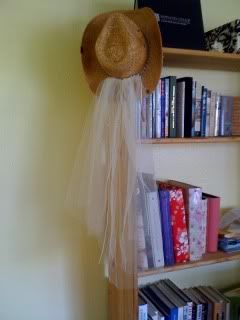 For the wedding we did a few more projects. We decorated a basket for the maps from the ceremony to the reception. The maps were printed on cute card stock and we tied them closed with a 1/2 inch yellow satin ribbon.
For the Mother of the Bride and the Mother of the Groom we decided it would be special to make them a cute tissue pack. We folded pieces of yellow card stock into a pocket, stuck the tissues inside, and placed an "R" sticker on the front for their last name. It made the moms cry even more.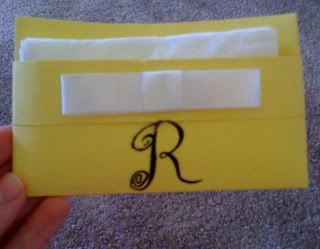 The last special touch we did was a tribute to the brides father who passed away. We wanted to have a space for him as though he was there. I took a plain white frame that the bride purchased and glued yellow satin ribbon to either sides of the frame and a boy at the top. I printed writing on card stock to attach to the matting of the frame. We inserted a picture of her and her dad and placed it on a chair during the ceremony for him to watch over her on her very special day.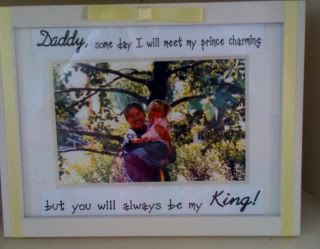 I had so much fun doing Amanda's wedding and I hope to do more weddings soon!